Guns of Boom Esports Season 2 has a consistent system with 3 Series.
Challenger Series
This is the entry point, with weekly online tournaments for teams around the world. If your team does well in these games, you score points and win cash prizes. The Challenger Series is divided into stages that lead up to the next Pro Series event. There are Winter, Spring and Summer Challengers. At the end of each stage, the top teams advance to the next stage — Pro Series. At the end of a stage, all qualifier points are reset, so every stage of the Challenger Series starts off with a clean slate.
Challenger Series of Season 2 is over now, see you in Season 3 next year, stay tuned!
Pro Series
These are offline esports tournaments featuring the top teams, taking place at different venues around the world. There is serious prize pool money at these events, and a team can make a name for themselves, forever marking their place in esports history. What's most important though, is that winners of the Pro Series get to advance to the top tournaments — Gods of Boom.
The last Pro Series event of Season 2 - Pro Series Europe - will happen on November, 22. The list of participants:
Gods of Boom
The best of the best are gathered here. These guys aren't just sharpshooters and skilled fighters, they're all very experienced team players who know how to play tactically as a unit. Every team on this level is nothing short of a Guns of Boom legend. These tournaments are played in huge arenas with crowds of fans cheering from their seats. The winners take home big money, trophies, and the title of champion.
The last Gods of Boom event - Season 2 Finals - will happen on November, 23 at Hypertown Tallinn. The list of participants:
Contenders of Season 2 will fight for the $500,000 prize pool!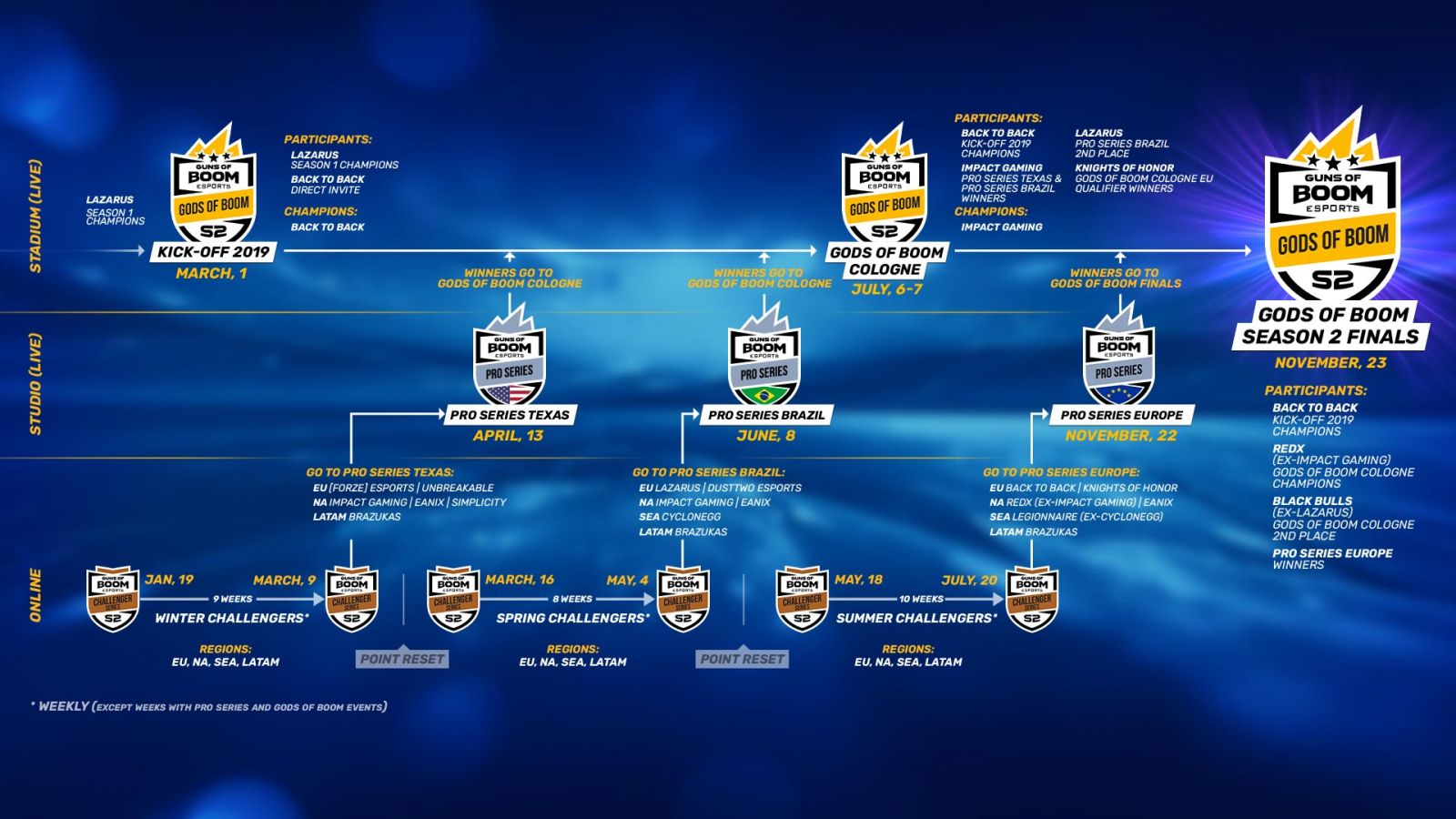 Guns of Boom Esports Rules
What do I need to participate?
You need to be over 18 years old

You need an active Guns of Boom account level 22 or higher which has never been banned and has no history of refund abuse.

If you play on an Android device, your OS version must be 5.0 or higher.

All official matches are played on smartphones. Tablets and emulators are not allowed by the rules.

You need to live in one of the following regions: Europe, North America, Latin America or Southeast Asia. A team must have at least 3 members with residence in one of the following countries in the region. The list of all participating countries:

Europe: Andorra, Albania, Bosnia And Herzegovina, Belgium, Bulgaria, Belarus, Switzerland, Cyprus, Czech Republic, Germany, Denmark, Estonia, Spain, Finland, Faroe Islands, France, United Kingdom, Georgia, Gibraltar, Greece, Croatia, Hungary, Ireland, Israel, Italy, Liechtenstein, Lithuania, Luxembourg, Latvia, Morocco, Monaco, Moldova, Montenegro, North Macedonia, Malta, Netherlands, Norway, Poland, Portugal, Romania, Serbia, Russian Federation, Sweden, Slovenia, Slovakia, San Marino, Turkey, Ukraine, United Kingdom, Holy See (Vatican City State)

North America: Aruba, Barbados, Bahamas, Belize, Canada, Colombia, Costa Rica, Cuba, Dominica, Dominican Republic, Grenada, Guadeloupe, Guatemala, Honduras, Haiti, Jamaica, Saint Kitts And Nevis, Cayman Islands, Saint Lucia, Martinique, Mexico, Nicaragua, Panama, Puerto Rico, El Salvador, Turks And Caicos Islands, Trinidad And Tobago, United States, Saint Vincent And Grenadines, Virgin Islands (U.S.)

Latin America: Argentina, Saint Barthelemy, Bolivia, Brazil, Chile, Ecuador, French Guiana, Saint Martin, Peru, Paraguay, Uruguay, Venezuela

Southeast Asia: Australia, Brunei Darussalam, Indonesia, India, Cambodia, Lao People"s Democratic Republic, Myanmar, Malaysia, Philippines, Singapore, Thailand, Timor-Leste, Vietnam
What are the Tournament Game Rules?
Tournament Game Rules:
Health and armor of all players are capped at level 22
No item can be better than what's available to the player on level 22
Aim assist disabled.
All consumables are free in Pro Play mode
All allowed guns and equipment are available in Tournaments matches for free
Allowed consumables (per battle/per life):

Grenades (10/2)
Medkits (25/5)
Flashbang (2/2)
Stim-gun (3/3)
Repair Kit (2/2)
G-Launcher (1/1)
Restricted items
These items are banned from use in the Tournament games:
Equipement:
The EYE

Paracelsus

Bulwark

Scorpion

Mirage

Colossus

Mustang

Rhinoceros

Reanimator
Weapons:
Reaper

Bastion

Last Breath

Hero

Zeus

Wasp

Joker

Daryl's Crossbow

Survivor

Lucille

Rick's Revolver
How do the leagues work?
Participate with your team (with friends or a clan) in Challenger Series.

Reach the semi-finals of the Challenger Series Cup and show your skills on the live broadcast.

Take first places in your region, and your team will win a trip to the next league - the Pro Series.

The teams that win in the Pro Series get to advance to the top league of the season - Gods of Boom. The matches in this league are held on huge stadiums and esports arenas around the world.

Play well, play hard, win, and your team might get to sign a contract with an esports organization.
Where do I begin?
Grab your friends and clan members or find a team on our Discord channel.
Go to private games, turn the Pro Play mode on, and start training!