The insane blizzards are swirling with razor-sharp snowflakes, and the cold is so intense, the Incinerator looks like a blessing, not a deadly weapon. Winter has come to Gods of Boom, and we've got a whole season planned out. Check out what to look forward to in the next few weeks!
Battle Career
Ready to start ranking up? Good, because that's what Battle Career is all about: complete challenges and quests, take part in the Daily Marathon, gain Battle Career experience, gain ranks and receive cool rewards. Want to shoot for the top places from the get-go? Start an Elite Career, and you'll get more. More challenges, more rewards, more ranks, more everything!
The Brawls
As usual, we've prepared 6 different weekend brawls for all gunslingers to enjoy. This time, there are all sorts of activities awaiting you: from the reckless Rocket Party to the clutch and intense All for One. We've got fun of all kinds!
You can easily follow all the future and ongoing activities in the game in our Schedule.
Battle Cases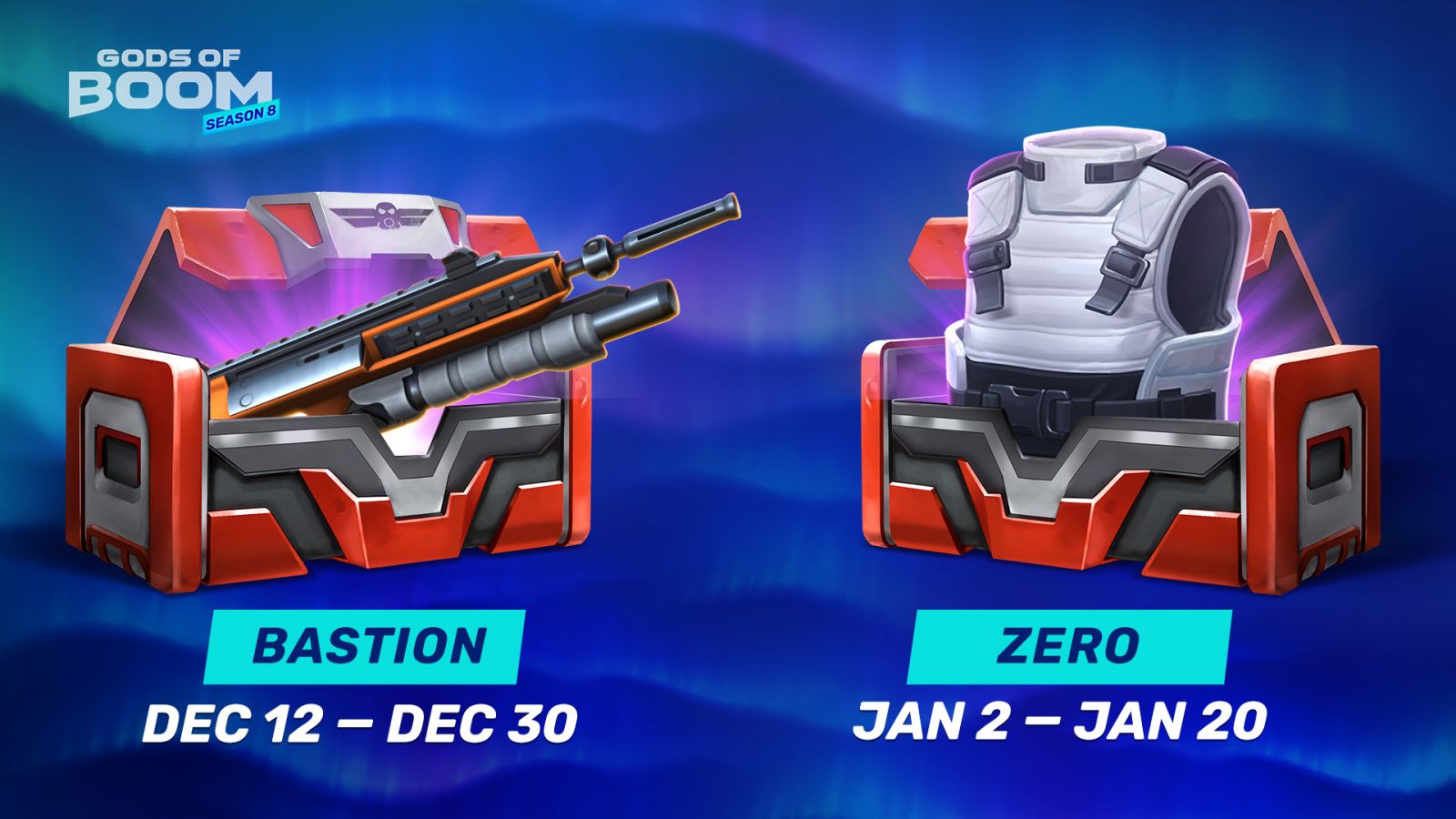 Now, we know you love opening Battle Cases and getting sweet loot, so there'll be another 2 cases in Season 8. Farm Battle Coins, open chests, get guaranteed fragments, consumables, cosmetics and more! You'll need all these goodies for the coming event. Oh yeah, there'll be a New Year event, you can count on that!
Cosmetics

9 out of 10 gunslingers confirm that enjoying the activities is twice as fun when you're dressed for the occasion. This season, we're bringing you 2 awesome snow camouflage costumes, a bunch of masks, brand-new emotes, eye-candy insignias and a bunch of nearly-festive weapon skins. Check out the pics and videos to get a taste of this cosmetics galore!
First of all, take a look at the Golden Dawn skin for your old friend Sunburst. It's sure to melt even the coldest hearts (and enemies).
Here's a little New Year event spoiler for you: a mysterious new Joker shotgun. You can get a Cold Night skin for it in Season 8.
We heard you liked Arsenal, so now you can check your Arsenal while checking your Arsenal with the new Interface emote. And the hardcore looking costume is called Wendigo.
Add some Flare to your looks with a new emote! Also, you can spot our new Winter Camo costume.
Salute your teammates to commemorate your victories on the battlefield!
Complete the Elite Battle Career to get all these emotes and cosmetics!
Season Pass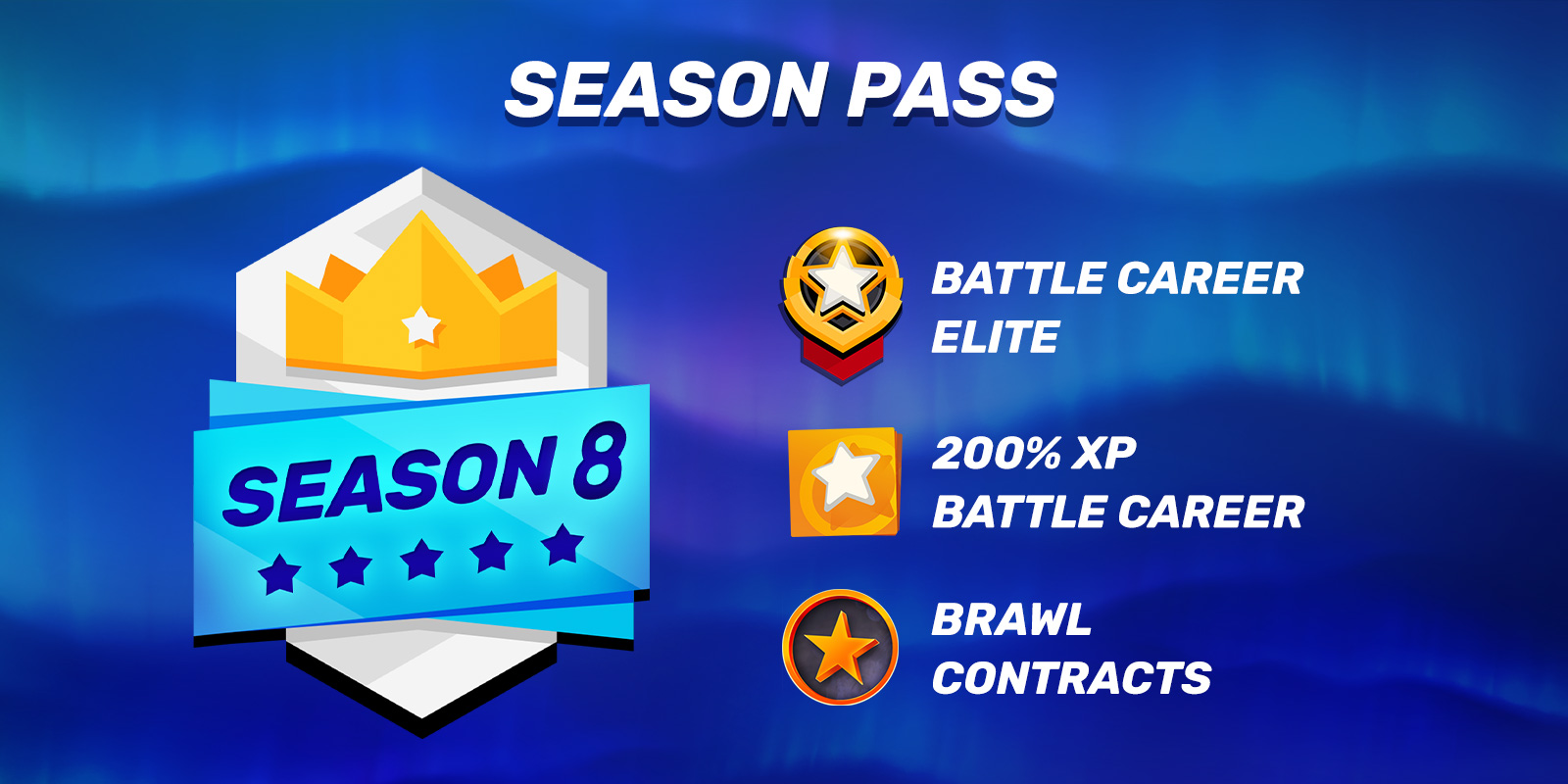 Want to experience the season to its fullest and enjoy the whole spectrum of fun and rewards? Then Season Pass is the thing you're looking for!
Doubles your Battle Career experience
Gives full access to the Elite Career of the season
Unlocks all brawl contracts

Sounds neat, right? Wait till you see all the rewards you'll get for completing brawl contracts and reaching rank 40 in Battle Career - you'll need a doctor to help you get your dropped jaw back into place.
Daily Marathon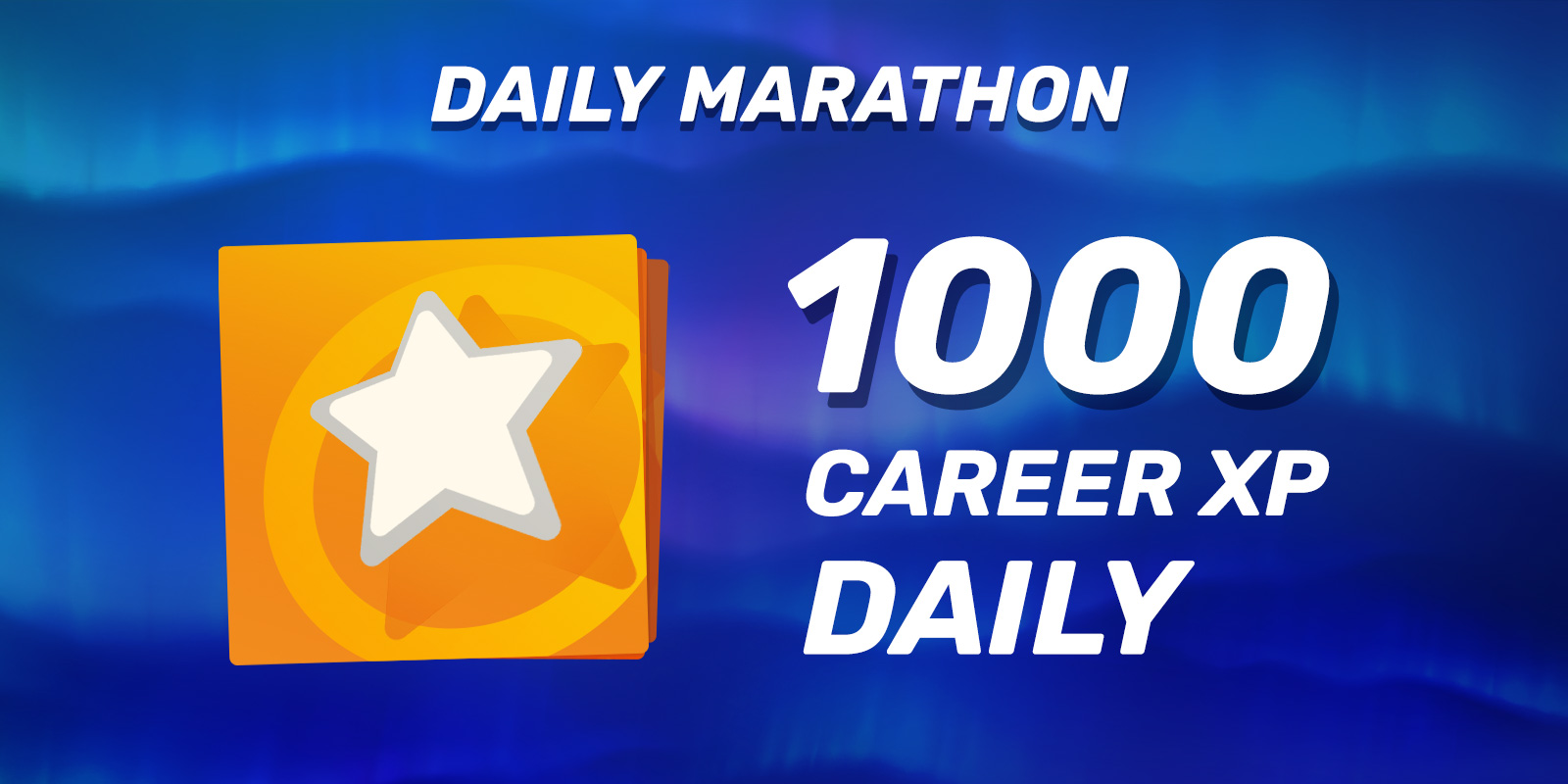 You can advance in the Battle Career event if you don't fire a single shot. How? By taking part in the Daily Marathon, of course. Once every 24 hours you get 1000 Battle Career experience points absolutely hassle-free. Just push a button and advance in the career. Wish my job was this easy…


Anyhow, that's all we can share for now, but don't worry - there'll be a ton of other surprises this season. After all, it's not just Season 8 or Winter Warfare - it's also the start of the holiday season. Stay tuned!